Pine Box Caskets
This is our new Pine Box style of casket. These are inexpensive burial boxes fashioned in a traditional style which have a simple but attractive design and are sturdily built out of solid lumber. Made here in the USA.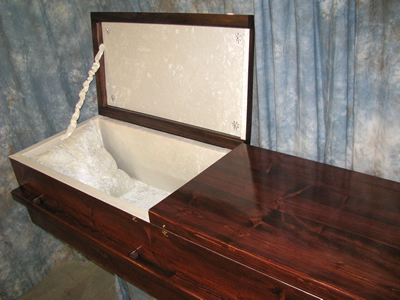 This one was finished in a dark red/brown color and the box & lid was lined in cream.

Our pine box caskets are also available in a raised lid design at no extra cost.
Features on all our Pine Box Caskets
Solid Pine or Cedar wood box construction with reinforced corners & joints.
One piece hinged lid with latch with reinforced corners & joints. Available in either flat or raised design.
Solid wood handles.
Sanded, stained & finished - including lid interior.
Interior fully lined & padded.
This casket is also suitable for cremation or direct burial.
Sized to fit a standard vault.
Unfinished & unlined (Eco Style) only $599.00
Fully finished & lined only $699.00