Created Jan 17, 2015, and updated
Oct 29, 2016
by
Terri Hurley
Wood Caskets & Coffins For Sale.
Caskets by Design's caskets & coffins are made in the USA, and are for sale direct to the public. They are attractive, dignified and of the best quality and are available in a wide selection of styles, from a simple box to elegant paneled & trimmed designs, offered in standard, oversized & custom sizes, with a wide choice of stain and liner colors to choose.

Don't be forced into paying more for your casket or coffin, we will save you $100's or even 1,000's off the price of your funeral.

Many of our products are made to order in as little as 3 days, but we also normally have a few caskets and coffins on hand either finished & lined, wrapped and ready to ship, or finished & waiting to be lined in the color of your choice, you can check those out below.
Premier 2 Tone Pine Coffin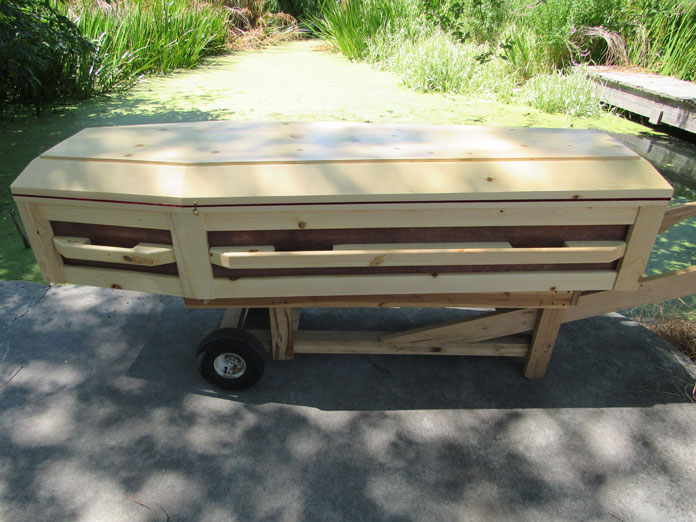 Attractive coffin made from Western Pine & Birch, with the wood being hand select for the best quality of grains and character. It comes in the premier paneled box design, with a premium single raised lid and solid wood handles standard. The exterior is sanded to a very smooth finish and is final coated with a durable clear lacquer. The interior will be fully padded and lined with your choice of liner colors. Sized to fit most standard vaults.

In stock.
Sale Priced: $

899.00


Offered by:

Caskets by Design
We currently have 3 items in stock, browse the list below.


Basic Pine Casket
Pine Coffin
Simple Pine Casket
All designs & images © 2007-2016 Caskets by Design.